violinist and founder of the Praga Camerata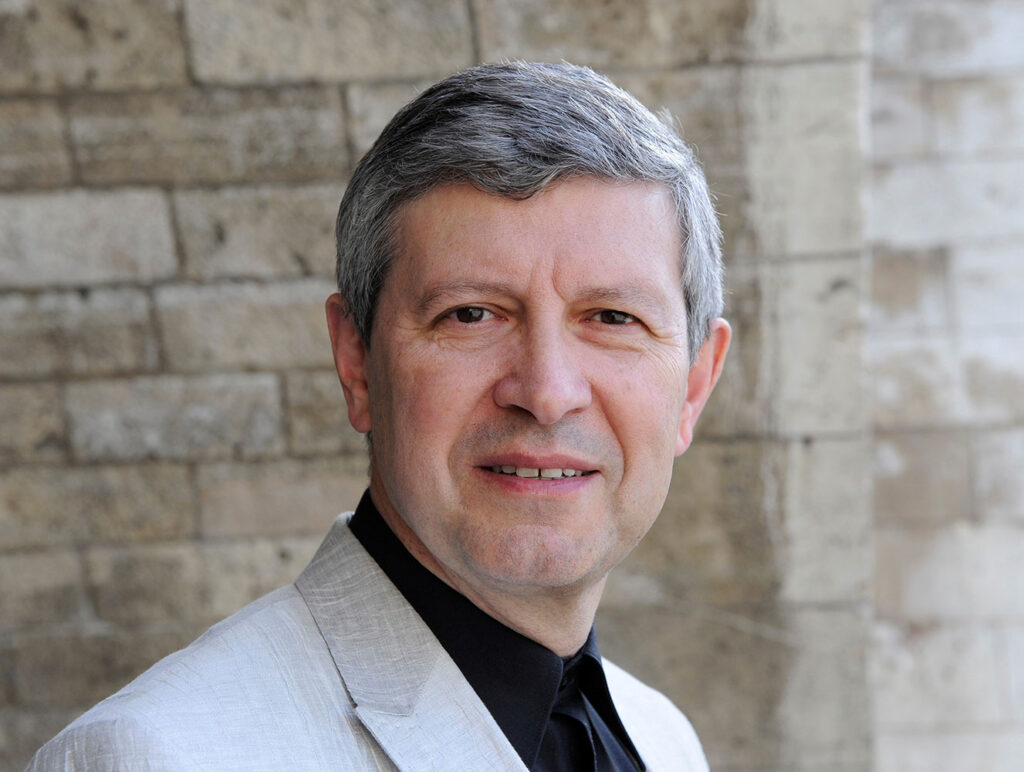 Pavel Hůla was born on January 23, 1952 in Prague into a musical family. His father Josef Hůla was a violinist, one of the founding members of Václav Talich's famous Czech Chamber Orchestra. At the age of six, Pavel started to play the violin. In 1963 he won first prize at the Kocian Violin Competition in Ústí nad Orlicí and in 1964 he shared first prize there with Václav Hudeček. In 1969 he won the Concertino Praga International Radio Competition as a member of a piano trio.
From 1970 to 1974 he studied at the Music Faculty at the Academy of Performing Arts in Prague with Prof. Marie Hlouňová, a pupil of Jaroslav Kocian. After his graduation, as part of compulsory military service, he was concertmaster of the Army Symphony Orchestra.
In 1975, he joined the by then established New String Quartet, where he replaced the violinist Pravoslav Kohout, who could no longer continue to play after an accident. The remaining members of the Quartet were Jan Odstrčil – 2nd violin, Jiří Najnar – viola and Václav Bernášek – cello, and they soon adopted the name of violin virtuoso Jaroslav Kocian. Pavel Hůla spent 36 years as the first violinist of the Kocian Quartet. He also carefully kept a chronicle, where we can read that during their career the Kocian Quartet gave 3170 public performances in 31 countries, they had 278 works in their repertoire, 36 of which they played as world premières. The most performed was Dvořák's American Quartet, Op. 96 – 613 times! They collaborated with countless renowned world musicians in prestigious venues and in recording studios. The members of the Quartet have partly changed. Viola player Zbyněk Paďourek has played in the Quartet since 1992, and Miloš Černý took over the second violin in 2001.
In our country and throughout the world, the Kocian Quartet successfully represented the so-called Czech quartet school, especially following the example of the Smetana Quartet, with whose members they also studied as part of their postgraduate studies at the Academy of Performing Arts in Prague. The Kocian Quartet ended its concert career in 2011. However, their artistry survives in almost sixty recordings for Czech Radio and sixty CDs, most of which were released in the last fifteen years of the Quartet's life for French label Praga Digitals, led by French music critic Pierre Barbier. These CDs are characterized by discovery dramaturgy and have been highly regarded by international professional critics. For example, for a recording of Paul Hindemith's complete quartet work, the Kocian Quartet was awarded the prestigious Charles Cros Grand Prix in Paris in 1997.
Pavel Hůla's quartet career did not end with the Kocian. In 2010, he was asked by colleagues from the Pražák Quartet whether he would replace their first violinist Václav Remeš, who could no longer play due to health problems. Pavel Hůla gladly accepted this challenge, so with Vlastimil Holek, Josef Klusoň and Michal Kaňka he studied another 76 compositions which were new to him and performed over 300 concerts in the most prestigious halls in the world. Unfortunately, he was soon diagnosed with an incurable disease (multiple myeloma) and the necessary treatment could not be managed with the demanding regime of the Quartet. Therefore, in 2015, he finally ended his quartet career.
In addition to quartet playing, Pavel Hůla also devoted himself to playing solo. In 1981 he even performed as soloist with the Czech Philharmonic Orchestra under the baton of Václav Neumann. He highly valued his collaboration with Vladimír Válek and the Prague Radio Symphony Orchestra in the radio recording of Khachaturian's Violin Concerto. He played regularly with chamber orchestras. His piano partners in recitals or recordings for Czech Radio or on CDs were Ivan Klánský, Boris Krajný and Petr Jiříkovský. He was sought after by his colleagues for cooperation in occasional ensembles, especially for his natural musicality, alertness and absolute musical reliability.
He often played with his daughter, the violinist Lucie Sedláková Hůlová and with his son-in-law cellist Martin Sedlák. It was a great joy for him that his grandchildren Magdalena and Lukáš also successfully began to devote themselves to music. They all played together at several concerts as a family quintet.
From 1972 to 2000 Pavel Hůla was a member of the Prague Chamber Soloists Orchestra. In 2002 he founded his own orchestra, the Praga Camerata. In connection with the artistic leadership of this orchestra, he also began to turn to conducting, which had attracted him from childhood. The Praga Camerata soon gained an international reputation, collaborated with prominent soloists and conductors, toured Japan, Spain, France and gave many concerts as well as recording projects at home and abroad.
In 2001, Pavel Hůla returned to where he celebrated his first violin achievements and to which he enjoyed returning all his life to be with his friends, namely to the Kocian International Violin Competition in Ústí nad Orlicí, only this time as a member of the jury and, since 2009, as its Chairman. In connection with this position and his career with the Kocian Quartet, in 2018 the Jaroslav Kocian Endowment Fund published an interview by Jan Pokorný with Pavel Hůla entitled "With music, with the violin, with Kocian". In 2019, Pavel Hůla received the Ústí nad Orlicí City Prize for his long-term contribution to the Kocian competition and the promotion of Jaroslav Kocian's name at home and abroad.
Pavel Hůla always resisted systematic pedagogical activities. However, he was a very popular chamber music teacher at numerous international chamber music courses. In 2006, he won an audition at the Music Faculty at the Academy of Performing Arts in Prague as a violin teacher with the aim of teaching chamber music. He used his rich experience as a solo and chamber musician in this pedagogic activity. And especially in recent years, when he had to limit his concert activities, he found work with students fulfilling. In the spring of 2021 he completed his habilitation thesis and in January 2022 he was due to be appointed associate professor.
Pavel Hůla lived his almost 70 years to the fullest. He fought bravely with his disease for nine years. He left this world quietly on December 7, 2021.